Supports
ZEC DOUBLE COATED FLEXIBLE DISC
Manufactured with a fiber support of 0.8 mm in thickness, the ZEC Double Coated Flexible disc is featured by multiple cooling pinholes on the abrasive surface, a particular star hole with depressed center and a domed shape, thus preventing its curling.

Thanks to the overlapping of two first-rate abrasive layers it produces outstanding efficiency and performance.

ZEC Double Coated disc complies with the safety requirements according to the European Standard EN 13743 and is intended to be mounted on hand grinding machines, with a proper backing pad.
TECHNICAL DATA
DIAMETERS mm.

178x22

127x22

115x22

DIAMETERS inches.

7x7/8

5x7/8

4½x7/8

MAX SPEED rpm

8.500

12.000

13.300

MAX PERIPHERIC SPEED
80 met./sec.o
ABRASIVE
Silicon Carbide / Aluminum Oxide
GRITS
36-50-60-80-100-120-150-180-220-280-320-400
SHAPE
Domed
MAIN FEATURES
Double coated = Double output
Excellent smoothing performance
Pin holes cooling system
Use with proper back up pad
Longer lasting fiber discs
DETAIL OF DOUBLE COAT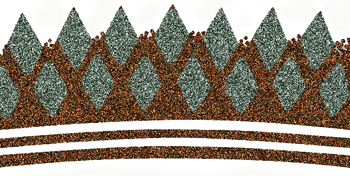 ZEC DOUBLE COATED SUPPORT